​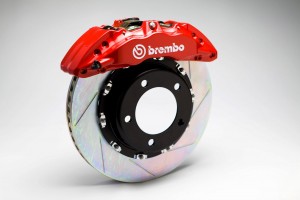 Brembo in brief
Brembo is a world leader in the design, development and production of braking systems and components for cars, motorbikes, industrial vehicles and machinery, for the OE market, after-market and racing. The Group has recently branched out into the design and production of safety systems.
Brembo guarantees the utmost safety and comfort and improved product performance thanks to process integration and optimisation of the entire production cycle, from the initial design and cast-iron or aluminium casting to assembly, testing and simulations on the bench, track and road.
Brembo's constant quest for innovation calls for new technologies, new materials, new shapes and new markets; product performance is accompanied by the search for a unique style in line with the design of the equipped vehicles.
​GLOBAL LEADERSHIP
in the braking system industry
Brembo is the undisputed global leader in the production of brake discs, calipers and complete braking systems. With its unrivalled expertise, Brembo produces everything from brake discs for the most popular cars in the European, American and Japanese markets to braking systems for the world's most prestigious and exclusive models.
The superlative levels of technology and reliability of Brembo products is founded on an integrated production process which encompasses every stage in the production process, from research and development and testing to casting and machining.
On top of this is an ongoing commitment to research and development that sets Brembo apart as a leading name in its industry and allows the group to excel as both a manufacturer of reliable, durable components for the world's most popular and widely sold cars, and as a supplier of state-of-the-art braking systems designed and produced specifically for the most exclusive and desirable models in every class.
CATEGORIES
Specific braking systems for each of the main categories of automobile
Base
Simplicity, efficiency and safety are the distinguishing characteristics of the discs produced by Brembo for these models.
Medium
In the mid-premium segment the braking system must contribute to this by ensuring reduced environmental impact, superior comfort and satisfactory performance.
Large
Brake systems for luxury sedans must ensure impeccable comfort and a superlative performance.
Sport
Sports cars have always represented the most prestigious and challenging test bed for a braking system.
SUV
Sport Utility Vehicles need very powerful braking systems that can withstand demanding use, even in off-road conditions.
Group activities
Cars
PRODUCTS
Brembo discs, calipers and brake modules: performance, comfort and style.