DESIGNED & MANUFACTURED FOR QUALITY

Working with OE clients has helped Allied Nippon hone brake
pad design and manufacturing to a truly exceptional standard.
As a result, Allied Nippon brake pads deliver genuine,
world-class performance.
With complete control over raw materials and the
manufacturing process we are able to ensure a consistency
of performance from each and every Allied Nippon pad.
Our NAM112A friction material is proven to deliver with
every push of the pedal; the excellent wear properties of
this compound ensures a long service life whilst the overall
construction of an Allied Nippon pad yields superior shear
strength and low noise properties.
---
 RMR SHIM
Over 200 of the most popular Allied Nippon applications
feature the innovative RMR (Rubber-Metal-Rubber) clip-on
backing shim to help reduce noise and eliminate squeal.
This OE-type feature will be added to yet more applications
as part of an ongoing programme of product development.
---
'E' CERTIFIED PERFORMANCE
All Allied Nippon brake pads are 'E' certified under ECE R90
regulations. This EU directive governs brake pad design,
construction and performance, stipulating that a pad must
perform to within +/- 15% of the original part in a series of
stringent tests in order to comply. Buying R90 approved brake
pads is therefore the only way to ensure that you are supplying
safe, reliable products to the customer.
---
DEPTH OF RANGE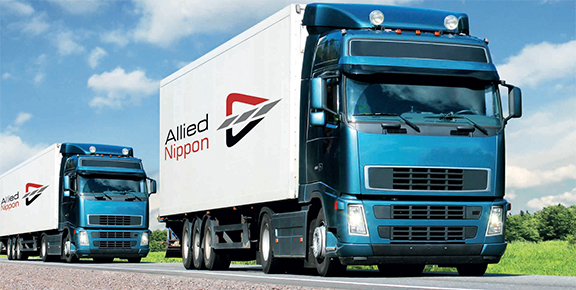 The Allied Nippon range is huge! In fact, we offer one
of the biggest 'E' certified brake pad ranges in the world!!!
In addition to covering over 95% of the European, Japanese
and Korean car parc, Allied Nippon also offers a complete
brake pad range for light commercial vehicles, trucks (CV),
buses and even trailers.